Regular price
₱2,999
Sale price
₱1,500
Unit price
per
Sale
Sold out
Get a whiter and brighter smile, fast. Carefully designed and clinically proven to get you whiter teeth in 1 week.
This mini version is perfect for those who want to try the Holo Teeth Whitening Kit but can't commit to it yet.
Want the complete Holo Teeth Whitening Kit? Click here.
What's in the 2-Pen Kit?
Holo Pens (2)
Holo Mouthpiece (uses LED technology

 

—

 

no harmful UV!)
Adapters (Lightning, USB-C, Mini-USB, USB)
Shade Guide
Instructions/Tips Booklet
Share
View full details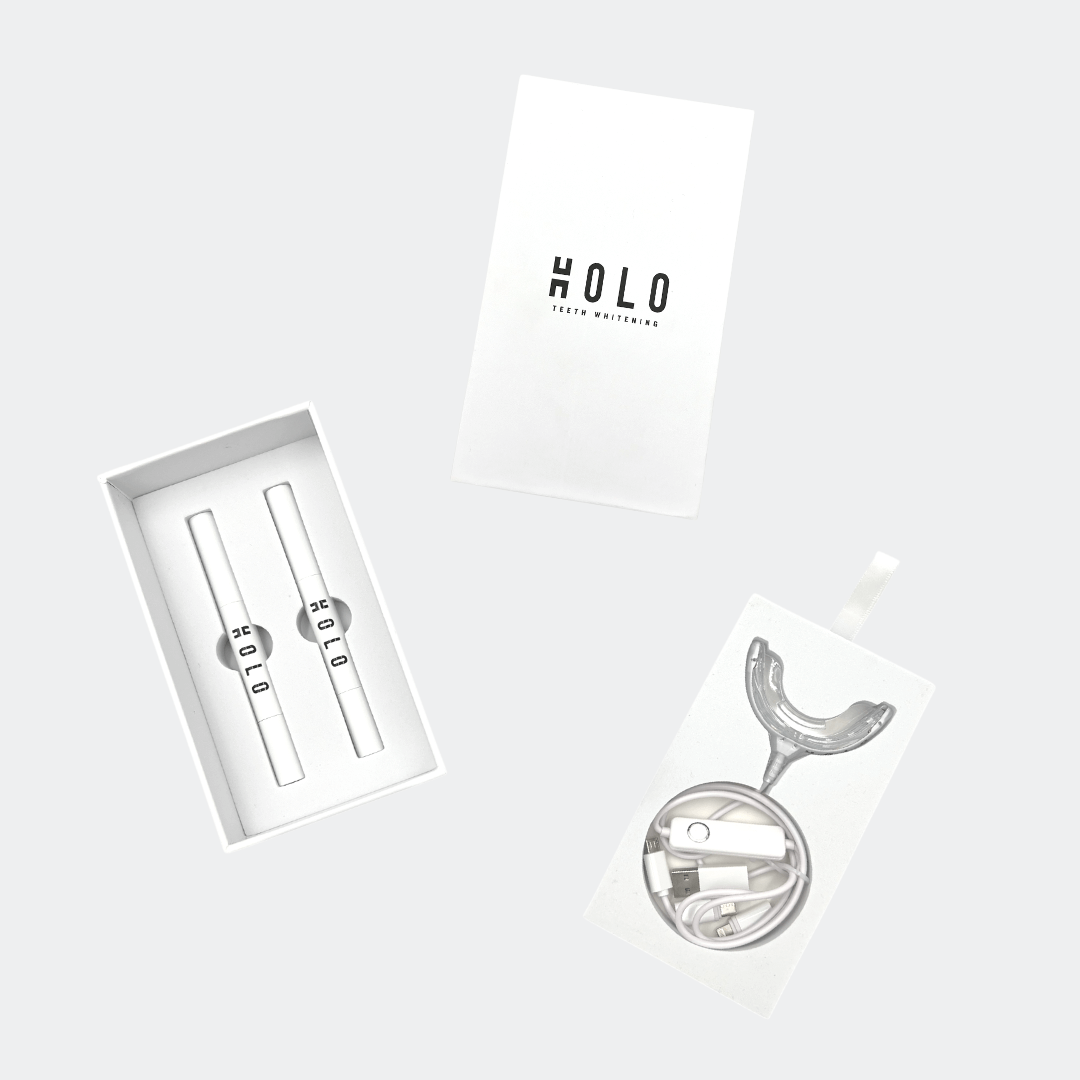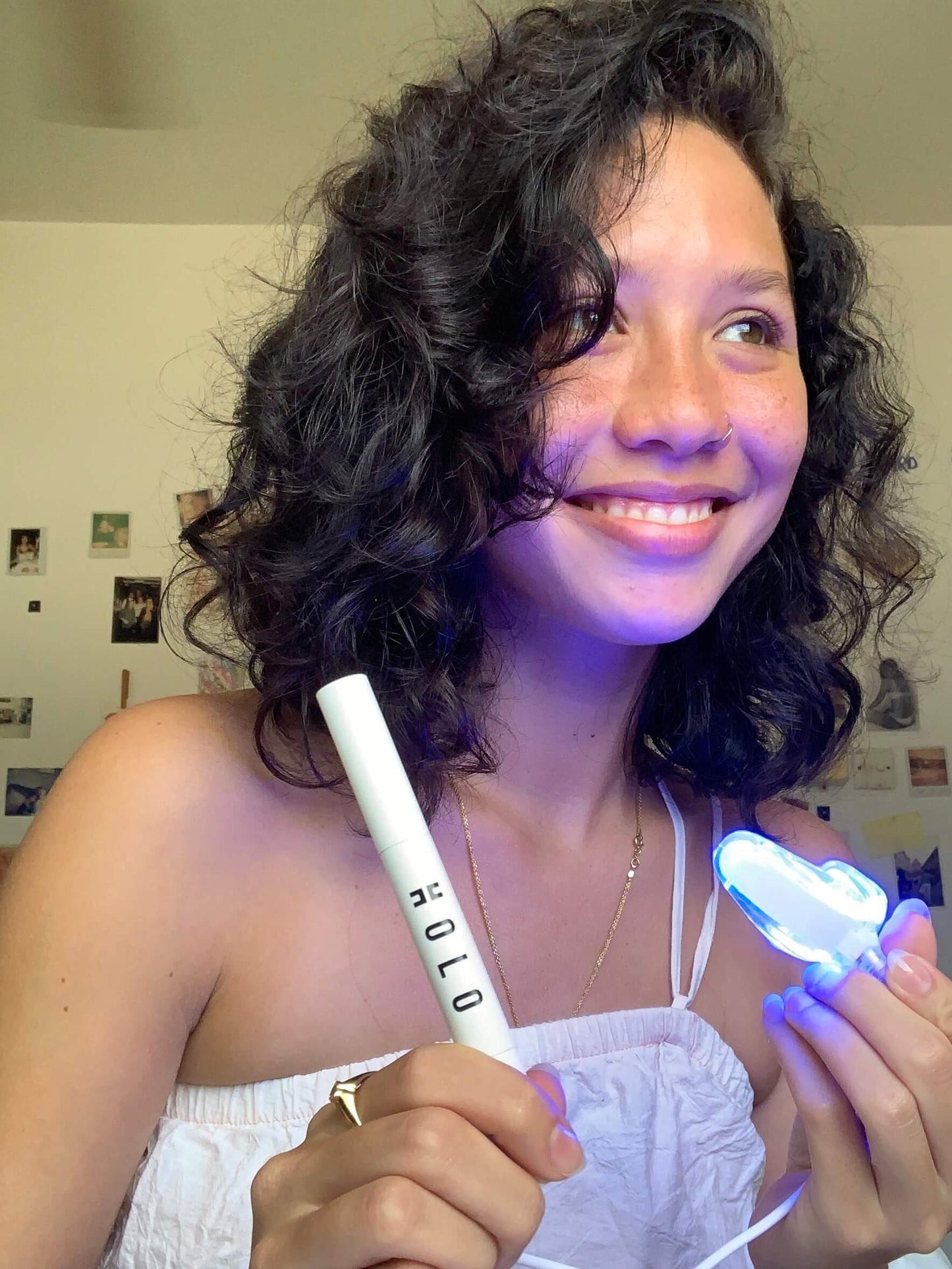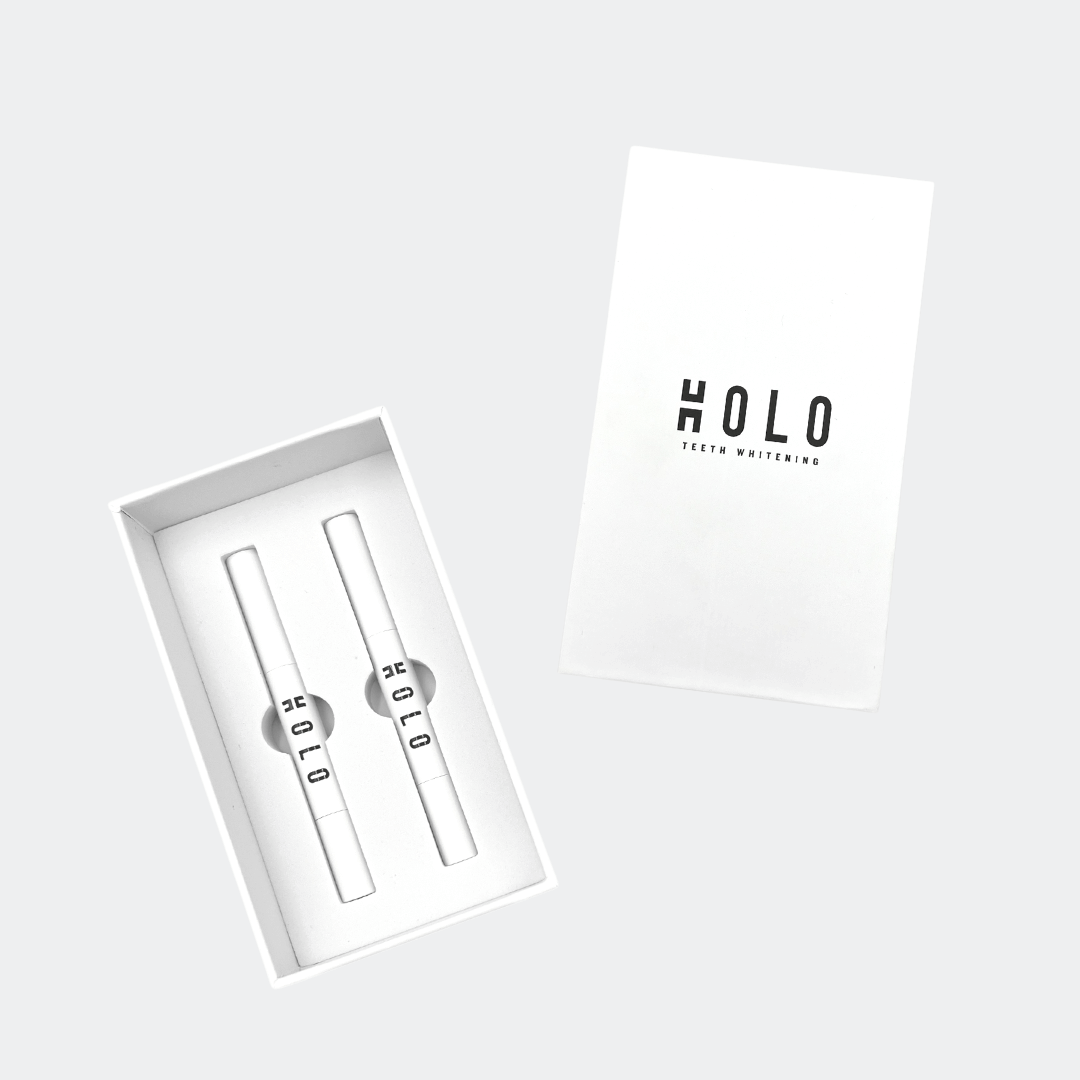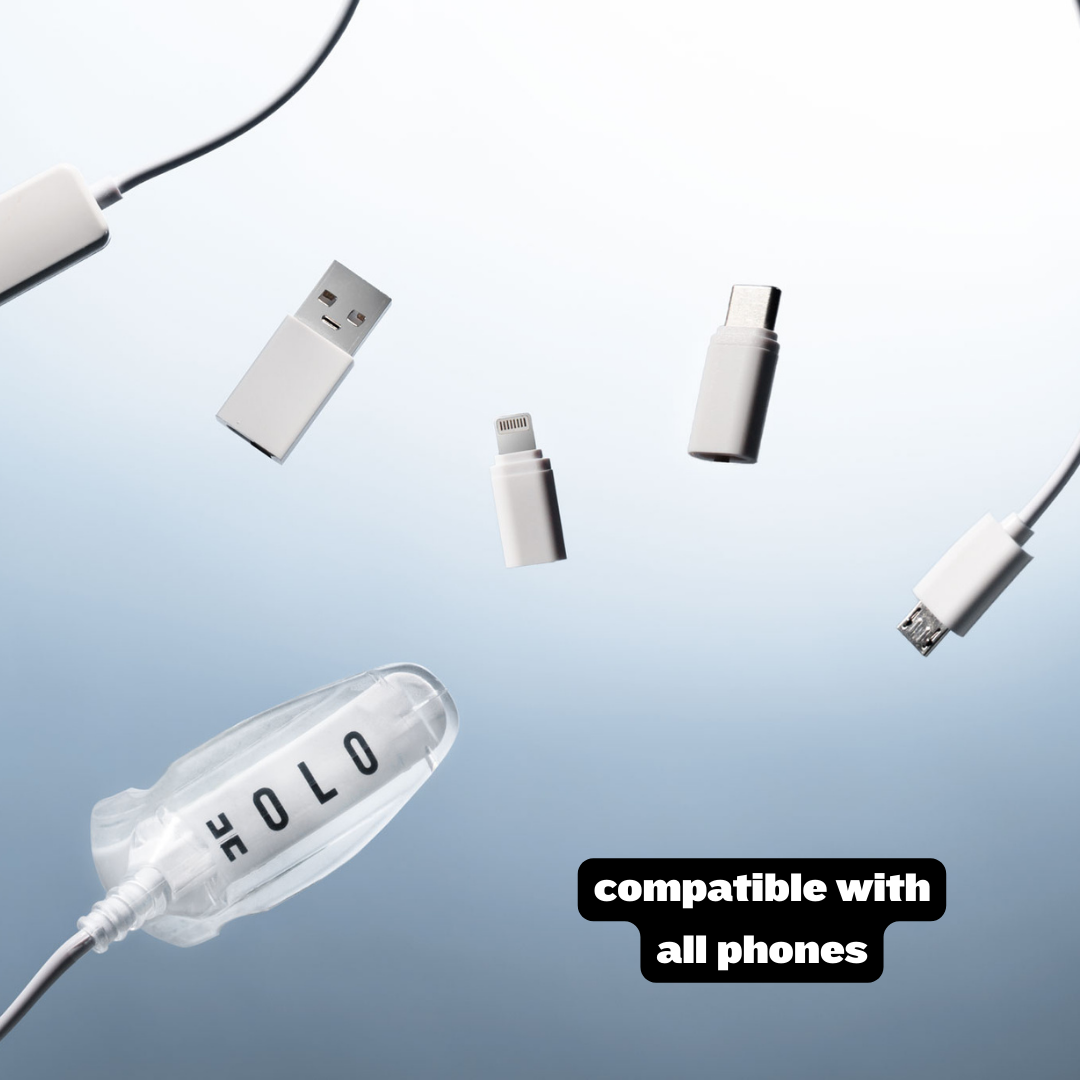 It's time to upgrade your smile care routine
Getting ready for a wedding or another special occasion? Or just want to feel more confident when you smile? The Holo Kit is perfect for you.
Collapsible content
Key Ingredients

Carbamide Peroxide

Used by dental professionals to whiten teeth safely and effectively. Works by allowing its oxygen molecules to react with your teeth's discolored molecules, producing whiter teeth while keeping enamel safe.

Potassium Nitrate

Reduces and relieves tooth sensitivity by calming the nerve fibers and building protection.

Polyvinylpyrrolidone (PVP)

Helps prevent your teeth from developing new stains.
Full Ingredients List

Water, Carbamide Peroxide, Propylene Glycol, Glycerin, Carbomer, Cellulose Gum, Potassium Nitrate, Polyvinylpyrrolidone, Menthol, Sodium Hydroxide.
Good to Know

Vegan, Cruelty-Free, No pain, No sensitivity, Mouthpiece lasts forever, No harmful UV, Removes stains from coffee, tea, smoking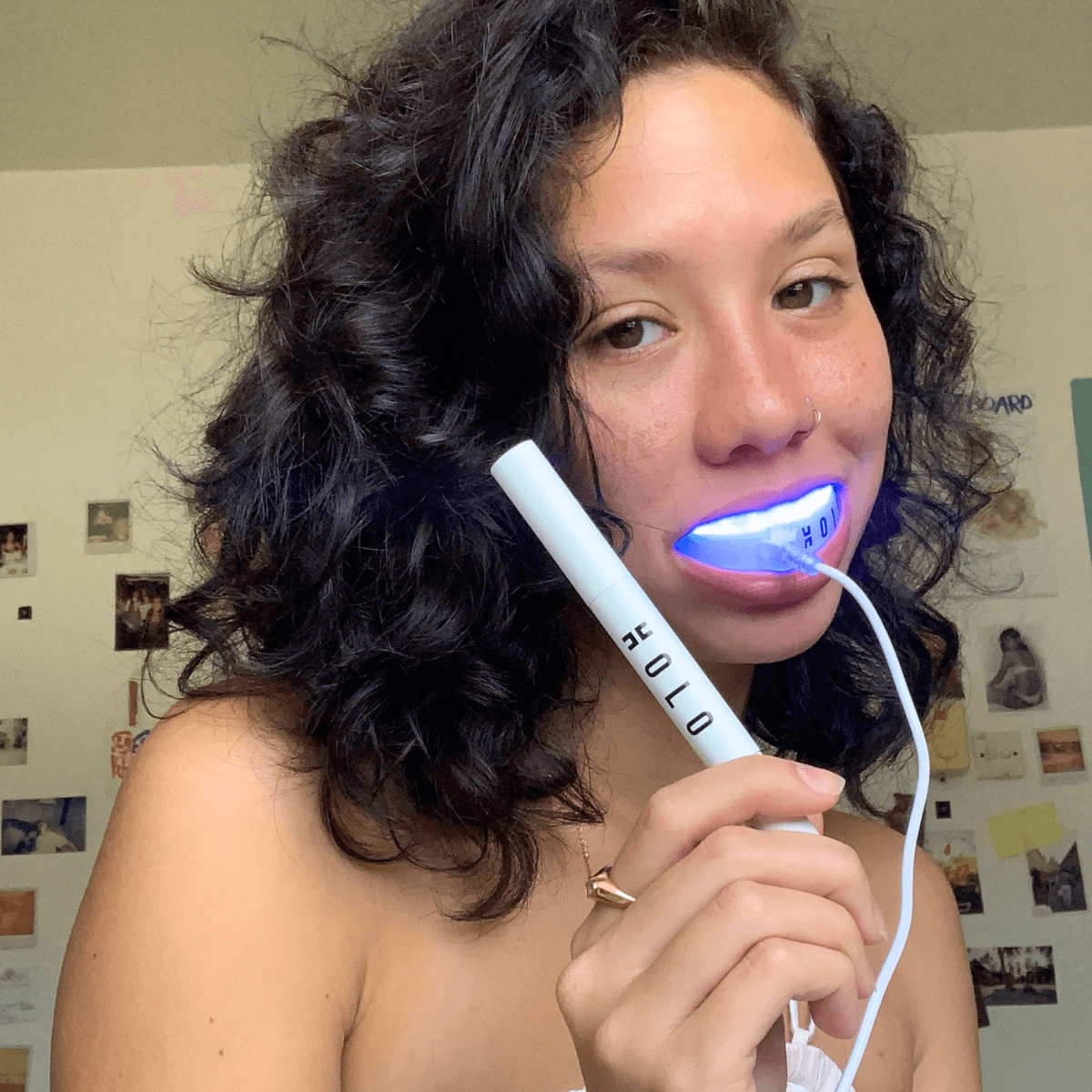 Next-level at-home teeth whitening
No cheap tricks, no shady, ineffective products. The Holo Kit uses the same active ingredient dentists use for teeth whitening to deliver professional results.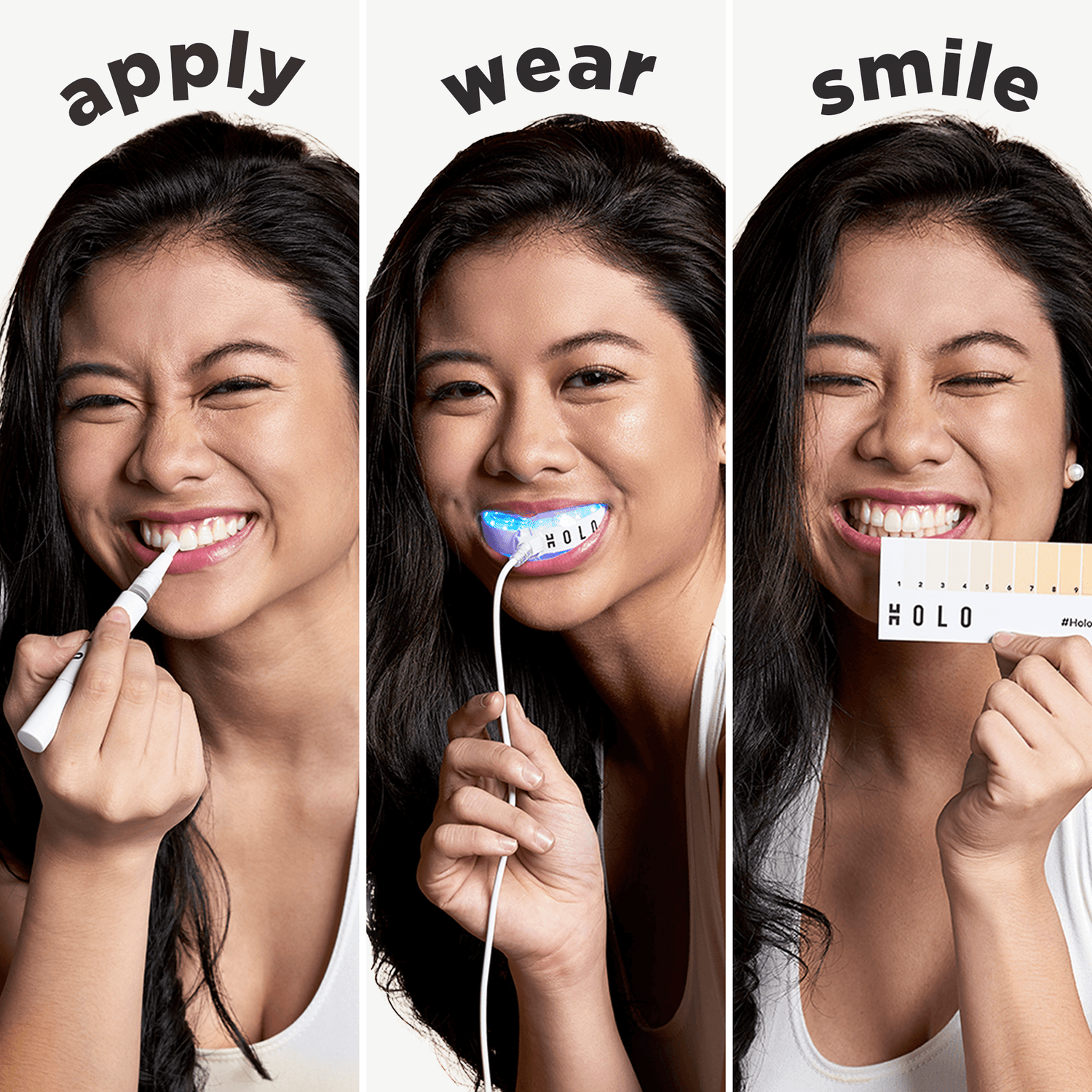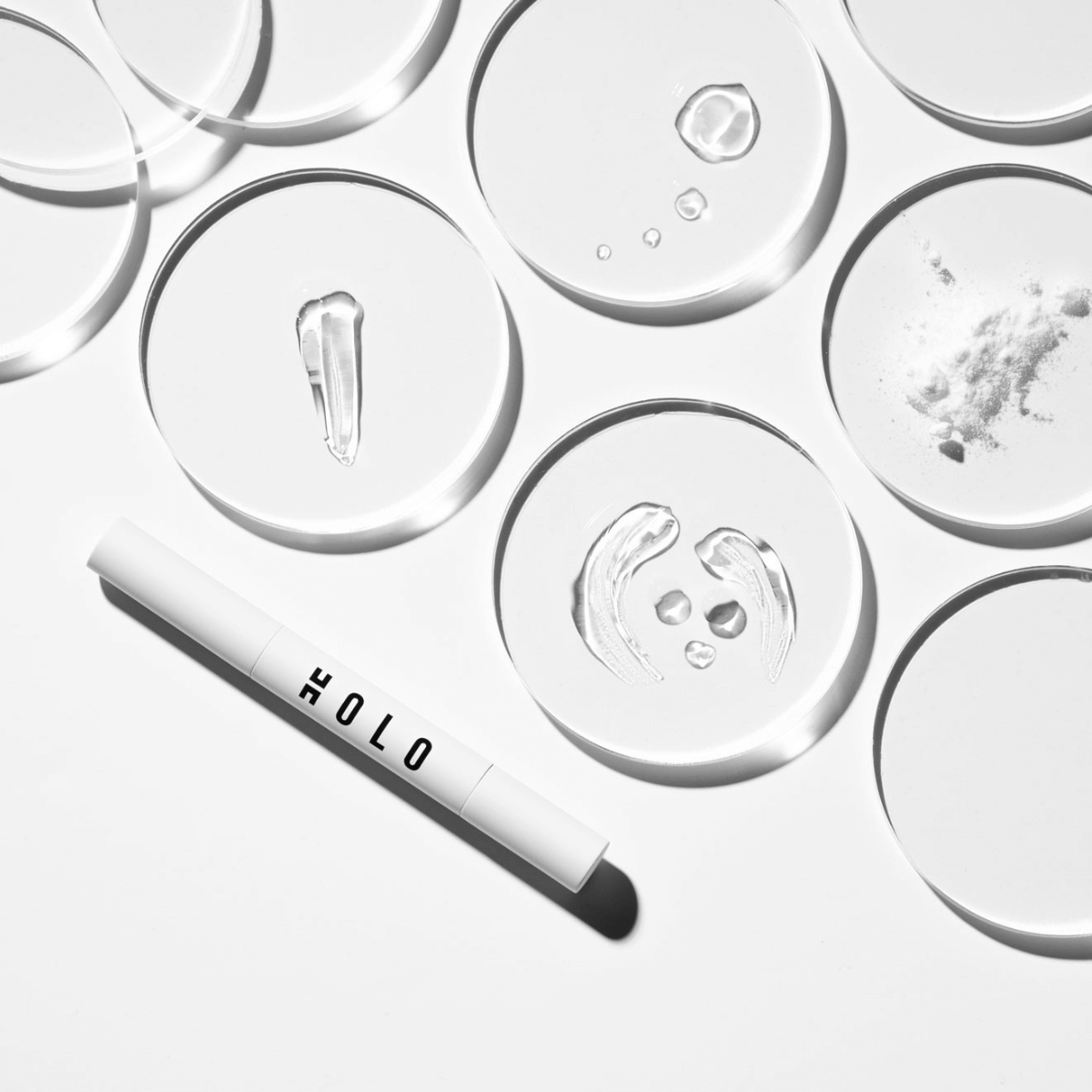 Gentle but powerful formula
Backed by science and years of research, our formula works hard so that you don't have to. Visibly whitens teeth at home safely and effectively, WITHOUT the sensitivity.
Got questions? We've got answers
Is the Holo Teeth Whitening Kit safe?

Yes! Our active whitening ingredient is carbamide peroxide– clinically proven to safely and effectively whiten teeth. It's also one of the whitening ingredients professional dentists use. It works by oxidizing the molecules that cause tooth discoloration, and allowing your natural tooth color to become more apparent. Our formula also contains potassium nitrate, a desensitizing ingredient, to prevent and treat tooth sensitivity. (That's the same active ingredient in Sensodyne).

The Holo Teeth Whitening Kit is FDA approved, and is used by dentists. We only use ingredients and materials that are clinically proven to be safe and effective. Our formula is also free from the following: SLS, Parabens, Phthalates, Phthalates, Alcohol, Carrageenan, Toluene, and Triclosan. It is vegan and cruelty-free.
How long does it take to see results with the Holo Kit?

This varies depending on your usage and your individual circumstances. Typically, you will start noticing improvements in your teeth color after a few days of use. We guarantee your teeth will get at least 2 shades whiter when you use the kit for 7 consecutive days. You can check our money back guarantee here. We recommend continuing to use the kit daily until you reach your desired shade. 

Once you're happy with the level of whitening you've achieved, you can switch to using the kit for maintenance once a week or as often as you like to maintain your bright, white smile.
How long does the whitening effect of the Holo Kit last?

Holo doesn't simply cover stains, it removes years worth of teeth stains. After using the Holo Teeth Whitening Kit, you can expect the maximum whiteness to last about 3-4 weeks without maintenance. Over time, our teeth naturally stain due to factors like the food and drinks we consume, as well as our age and lifestyle. To maintain your results, we recommend using the kit once a week, or as often as you like. This will help keep your smile bright and white for longer. You can also use Holo Teeth Whitening Strips to give your smile a boost.
Can Holo be used with veneers, caps, implants, bridges, braces or bonded teeth?

Veneers, caps, implants, bonding or bridges aren't designed to be whitened and require special care from your dentist. The kit is designed to whiten natural teeth through oxidizing stains. We recommend checking with your dentist before using the Holo Kit to ensure it is a suitable product for you. 

If you have braces, we recommend whitening your teeth after your braces have been removed. This will ensure that your smile whitens evenly. In the meantime, you may opt for gentle non-abrasive whitening toothpastes.
What's the difference between the Holo Kit and the Holo Strips?

Both the Holo Teeth Whitening Kit and the Holo Teeth Whitening Strips are effective options for achieving a brighter smile. The main difference between the two is the speed of results.

If you're looking for quicker results, we recommend using the Holo Teeth Whitening Kit. Our Kit includes an LED mouthpiece and a potent whitening gel that can help you achieve noticeable results in a shorter amount of time. If you're always on the go, or prefer a more convenient option, the Holo Teeth Whitening Strips may be a better fit. These strips can be applied easily to your teeth, and while the results may come in more slowly than with the Holo Kit, consistent use of the strips can still help to brighten your smile over time.